Revolutionary Robotics:
Flexiv Robotics and TSLOTS by Bonnell Aluminum Join Forces to Showcase Customizable Robotic Solutions
As North America's only line of t-slotted aluminum extrusions manufactured directly by the extruder, TSLOTS by Bonnell Aluminum is always looking for innovative ways to showcase the versatility and durability of our products. That's why we were thrilled to partner with Flexiv Robotics and Best Industrial Services, a TSLOTS distributor, on a project for the 2023 ATX WEST automation trade show.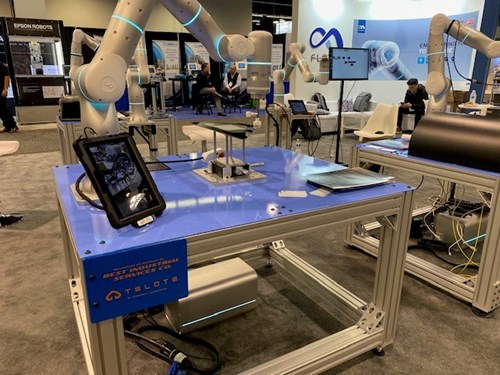 Working alongside Flexiv, a renowned company in advanced robotic solutions, we helped design customized aluminum tables featuring our extrusions. These tables were the perfect way to display Flexiv Robotics' innovative products at the trade show, demonstrating the strength and adaptability of TSLOTS' extrusions in a real-world application.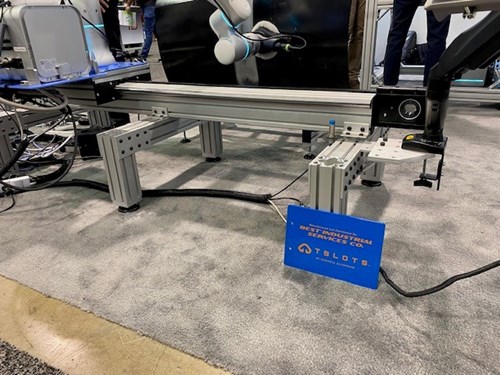 The combination of Flexiv Robotics' advanced robotics technology and TSLOTS' vertically integrated t-slotted extrusion system provides clients with a truly adaptable and flexible automation solution. TSLOTS' aluminum extrusions, fasteners, and accessories are well-known for their strength, flexibility, and ease of use. As a result, they are the go-to choice for industrial robotic applications such as safety guards, lean solutions, conveyor lines, and automation. In addition, due to their lightweight, modular, and sturdy design that eliminates the need for complex and time-consuming welding processes, users can quickly and easily customize TSLOTS' entire product line to meet the specific needs of any project.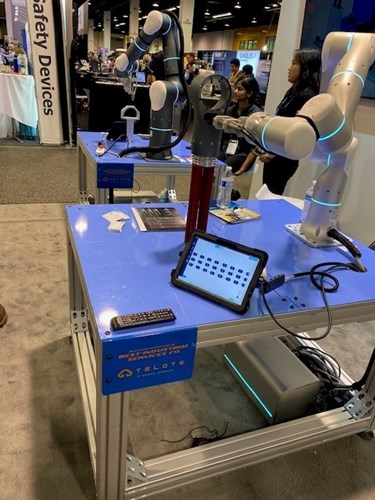 The addition of Flexiv Robotics' dexterous and adaptive 'cobots,' or collaborative robots, which operate on seven axes and are equipped with built-in force and torque sensors, made the combined display even more robust. As a result, Flexiv clients can now create tailor-made solutions for a wide range of automated tasks using the TSLOTS product line.
The partnership between Flexiv Robotics and TSLOTS by Bonnell Aluminum is a testament to the growing importance of robotic automation in manufacturing. By combining TSLOTS' robust and flexible extrusion system with Flexiv Robotics' intelligent and adaptable robots, clients can develop customized solutions designed to improve safety and productivity.
Click here for more industrial robotics solutions!