TBUILD™ Design Software
Our web-based, drag-and-drop design experience.
TSLOTS' new design software is an intuitive, easy-to-use, web-based tool that allows you to seamlessly create and edit designs, print a bill of materials, and obtain real-time pricing for your aluminum extrusion project.
WHAT DO YOU WANT TO BUILD TODAY?™
Whether you're designing complex machine guarding for industrial applications or building accessible shelving for your home garage, TBUILD makes it easier than ever to bring your ideas to life.
Simply choose your desired components and drag and drop them into place. From there, you can estimate your project pricing in real time,  export your 3D CAD project and Bill of Materials (BOM), and start working with a trusted TSLOTS distributor instantly to expedite the delivery of  your t-slotted extrusion and components.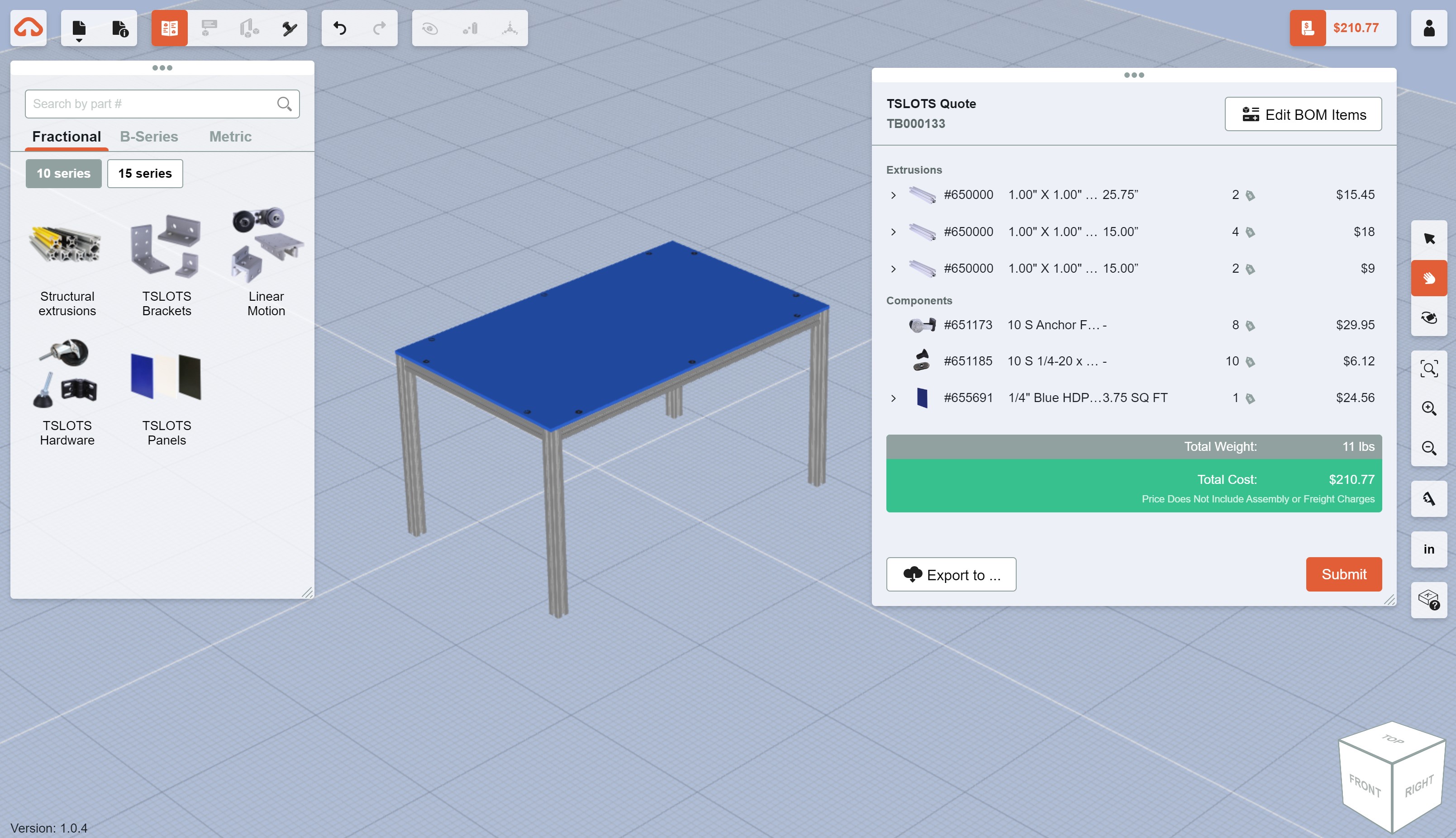 TBUILD Benefits:
Ease of Use: TBUILD is designed with simplicity in mind. With our drag-and-drop tool, you can easily select, place, and adjust components as you construct your design – no complex commands or extensive training needed.
Web-Based Access: No need to download hefty software or worry about system compatibility. TBUILD is entirely web-based, allowing you to access your saved projects anytime or anywhere.
Design Freedom: Our extensive library of TSLOTS extrusions and components means that you are limited only by your creativity. Experiment with different configurations until you find the perfect design.
User Support: If you ever need assistance or guidance, our dedicated support team is readily available to help you navigate any challenges.
Want to know more about TBUILD? Subscribe below for the latest news and updates!